This Sunday is a day of mourning in America. It is to mourn the day that hate and evil prevailed. It does not seem like ten years since this tragedy. I remember it like yesterday. We all sat in shock watching the attack on our country unfold and realizing that there was nothing we could do to prevent it. I live in Pennsylvania, where Shanksville is located and between New York City and Washington, D.C., both only a couple of hours away. It was a frightening time. But as Americans do, we pulled ourselves up by our boot straps and did whatever we could. We dropped our change in the boots of fire fighters to send to the survivors of the families of the first responders that were killed in the attacks. Police and Volunteer Fire Fighters from all over the country traveled to the crash sites to help with the recovery. Young men and women joined the services to commit their lives to defending their country. What the enemy did not realize that Americans are a nation of Pioneers and Adventurers that say "that which does not kill us makes us stronger".
Despite our struggles as a country that is a "Melting Pot", Americans live, work and play side by side every day regardless of race, creed, religion or gender.
New York City, N.Y.
Washington, D.C.
Shanksville, Pa.
To appoint unto them that mourn in Zion, to give unto them beauty for ashes, the oil of joy for mourning, the garment of praise for the spirit of heaviness; that they might be called trees of righteousness, the planting of the LORD, that he might be glorified.
Isaiah 61:3
God Bless America and God Bless You My Friends!
New York, N.Y.
Washington, D.C.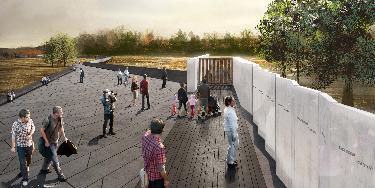 Shenksville, Pa.
"Let's Roll!"